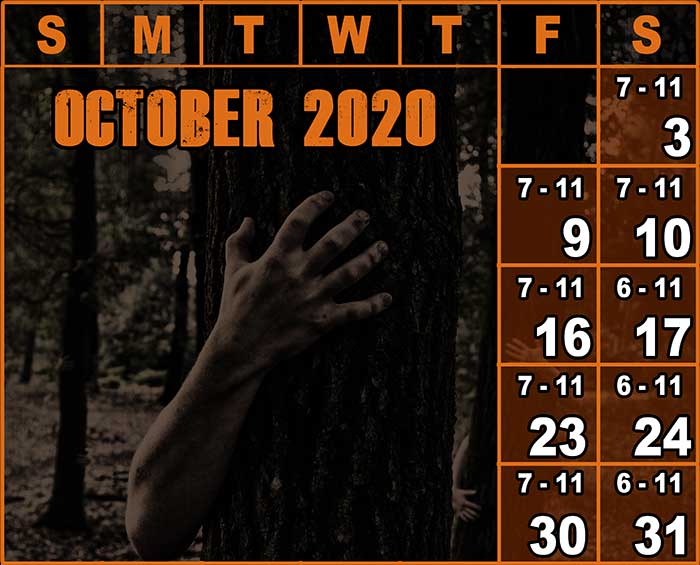 Links to Thundertix Website for Tickets.
Tickets must be printed to be used.
Limited dates and types of tickets.
Special Dates
On Octh 21st & 28th we open one hour early (6:00pm). The Woods and Hayride are less spooky without the darkness. If your kids are hesistant to do the woods then this is the time to test it. It is still the full blown version. If you are hesistant for the hayride then now is the time to do it before its dark! The woods is for children 10 and older. The hayride is recommended for ages 5 to 84. Anyone under the age of 16 must have an adult with them for any of the attractions.

Sep. 29th & 30th are Church & Group Discount Nights. Any group of 15 or more people can receive $2 off any ticket. Group leader must pay all at once and gather the money before getting in the ticket line. For all other nights, you should have the group leaders contact us in advance if group size is 25 or larger.

We HIGHLY SUGGEST buying your TICKETS ONLINE in advance. This will keep you from waiting in the ticket line which can be up to an hour long. If you purchase a combo ticket online during the second half of the season, then you must arrive no later than 9:00 pm in order to do both attractions. Tickets must be printed and shown to the police officer at the front of the ticket booth line before entering. Not all types of tickets are available online. All others can be purchased onsite during hours of operation.
Ticket Prices
Entertainment Zone


$5.00
Haunted Woods


$20.00
Zombie Paintball Hayride


$20.00
Combo Pass To Both Attractions


$30.00
75 Extra Paintballs


$10.00

Attraction tickets include access to the Entertainment Zone!
Slash Pass
Lets you skip over half of the line!
Haunted Woods Slash Pass


$20.00 Extra Per ticket
Hayride Slash Pass


$20.00 Extra Per Ticket
Combo Slash Pass


$40.00 Extra Per Ticket

Cash or Credit/Debit: $1.00 processing fee per swipe when using any card.
Please bring cash for concessions!

Website and content copyright © Millers Thrillers and may not be reproduced without permission.