Attractions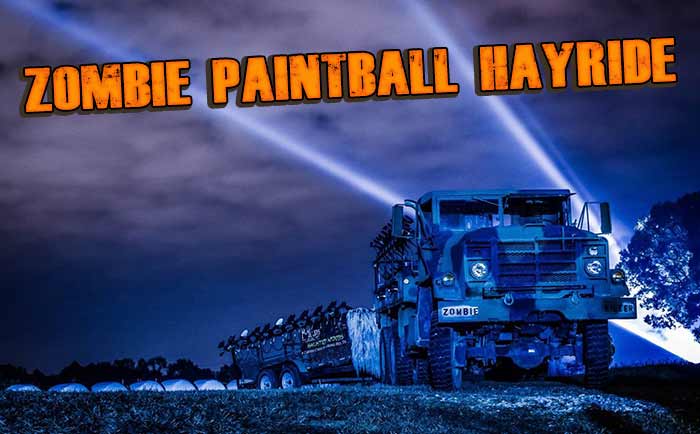 YOU SHOOT LIVE ZOMBIES! That's Right, this is your chance to "open fire" and protect our city. Have you ever wanted to play paintball but didn't like the idea of getting shot or getting dirty? We have found the solution. The zombies have the rage but ONLY you have the weapons!

Millers Thrillers has quarantined a horde of infected zombies. They are growing stronger and are planning their evacuation routes to attack our whole city. Their intent is surviving and creating more of their kind. They have no emotional core and no conscience but we must put limits to their schemes. Our game plan is to go in and get them before they get us!

The zombies have expanded into new territories. They are getting smarter with their plan of attack. We have seen them fly across the sky, blaze across the ground, and bounce across the horizon. Good thing we called for backup! More guns have been mounted to our new 5 ton military trucks! If you have traveled on this adventure before you will notice how the zombies have multiplied and have gotten more creative!

The government has gotten involved and set up a new training facility at millers thrillers. The bunker has survived a zombie attack and is now ready to quarantine any captured zombies.

NEW! In celebration of our 10 year anniversary, we have modified our trailers to become party trailers with new sounds and new lights! This experienced is now at another level with these upgrades as well as new scenes on the course!

Our specialized fabricated hayride trailers allow 20 people per ride to join our cause to eliminate these creatures that have an insatiable hunger for human flesh. Our specialized weapons have pathogens and parasites that can destroy the diseased zombies before the infection strengthens, spreads, and breaches containment. Humanity is counting on you. Shoot fast, shoot true, and shoot to kill. Do not hesitate or you could become one of them!
---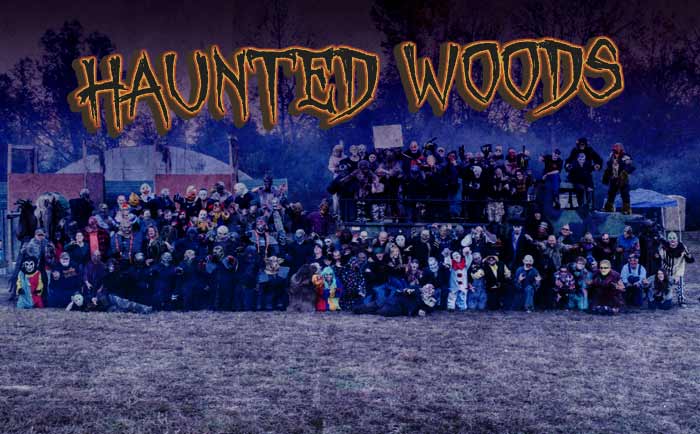 Millers Thrillers Haunted Woods Will Blow Your Mind with the changes for their 10 year anniversary! Many moons ago phosphate miners canvassed these parts digging their way to put food on the table. The land swallowed up a pack of these miners and spit them out with various mutated bodies. They now roam these woods hiding in the rocks and trees. They are not use to seeing civilized people and no one is sure how they will react to that.

We have found one of the old mining trails that leads into the darkness. Stay in your group and do not go under any of the boundaries. The swamps and hundreds of acres of farmland are looking to swallow you up too and we can't spend days looking for the lost like we did last year.

More trails have been discovered along the mines. New monsters have been found and are waiting around the corner for you! The expanded area has lead to an all new CLOWN TOWN 3D maze EXPANDED!! Prepare to be amazed this year! Pirates are rumored to be onsite roaming for a hidden treasure. New monsters were birthed by the land to defend against any and all trespassers!

This haunted house is why people drive from Nashville, Murfreesboro, Franklin, Spring Hill, Hendersonville and up to 2 hours away to see one of the best haunted houses in all of middle TN!

You better put on your big boy and big girl pants cause this ain't no McDonalds Playland.
---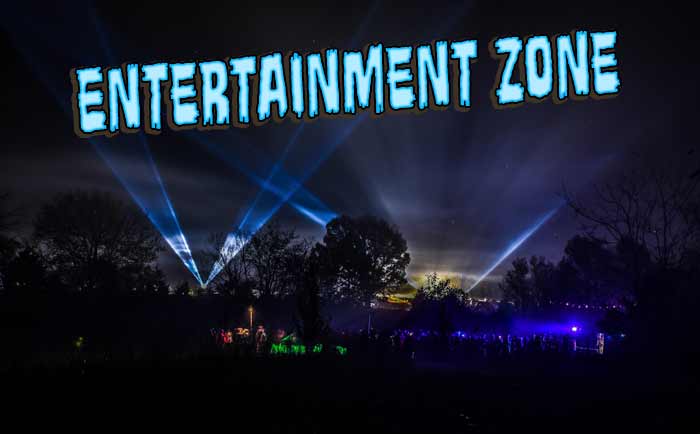 Our ENTERTAINMENT ZONE is sure to give you a memorable night. If you don't go through an attraction or if you're waiting in line for them, you will be entertained throughout your experience at Millers Thrillers. We have plenty of seating around our fire pit and a delicious concession stand where you can also purchase glow sticks and t-shirts.

Nearby in Cool Springs are 1-hour escape games. Please visit www.extremeescapegames.net to see if you can escape from a zombie!!

The aim is to let you make a whole night of being at our location. Original performers like our Zombie Drum Line may even steal the whole show! Any night will provide a combination of some of our actors, bands, illusionist, fire performers, jugglers, ghost story tellers, light show, reptile exhibit, stilt walkers, etc. Check our Facebook profile and status for up to date lists of performers each week.

This area also allows us to cater to birthday parties or large private events. We can hold 10 or even 1,000 people in a set aside location. We let you reserve space for your birthday parties, work parties, or church/youth group outings. We are scary but we are tasteful and family oriented at our core. You can hopefully see our Christian influence in every decision in life. Email us to discuss your church/group/party.
About Us

Millers Thrillers thanks you for visiting us year after year. Many drive from Nashville and further and we are grateful for your journey to us! We enjoy adding more creations each season which results in a new experience every time you dare to visit!

While some view Halloween as an evil holiday, our desire is to take that which some have thought to be evil and turn it into something good. We give ZERO attention or glory to satan or anything demonic. Our aim is to be a fun, safe, & clean entertaining attraction during the Halloween season. Our desire is to be an alternative to the gory, devilish, or vulgar attractions. We want you to enjoy your experience without it causing you any tears or nightmares! Our haunt focuses on creativity, startles, acting, & the WOW factor! Leaving with a laugh, smile, and occasional wet underwear makes for an all around good time!

We will only see most of you this one time a year. Because of that we want to now share with you something that is even greater than Millers Thrillers!

Fear is real. Its something we all have and feel at some point in our lives. People fear different things. Through Christ alone we can have a peace that passes all understanding. A life with him is the best life we can have! The world offers many desires that give us a temporary happiness. However, they still leave a void and emptiness that can only be filled by God! He loves us and wants us to know him! It is our hope at Millers Thrillers that you realize this world and this life will not last. It is all temporary!! Knowing Christ and living for him can make an eternal difference in your world! We love you and want you to be blessed by God!